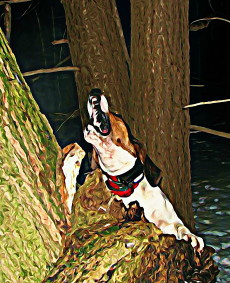 Have you taken a great photo of your dog in action? Or a great photo of your dog period? One of those keeper photos you are proud of? The type of photo that you wish was an art print on the wall?
Well now you can.
We can turn that keeper photo into an art print worthy of hanging on the wall for showcasing.
For just the low price of
$25.00
(
includes s & h
), we can turn your dog photo into an 8 x 10 art print ready to be placed in an 11 x 14 matted frame.
CLICK HERE
to view different art print examples created using our photo to art print services.
Having a hard time finding dog prints? Looking to give a gift? Our photo to art print service offers you a chance of having your own dog(s) in art. They also make great gifts. A great keepsakes of having your dog photo turned into an art print and forver immortalized.